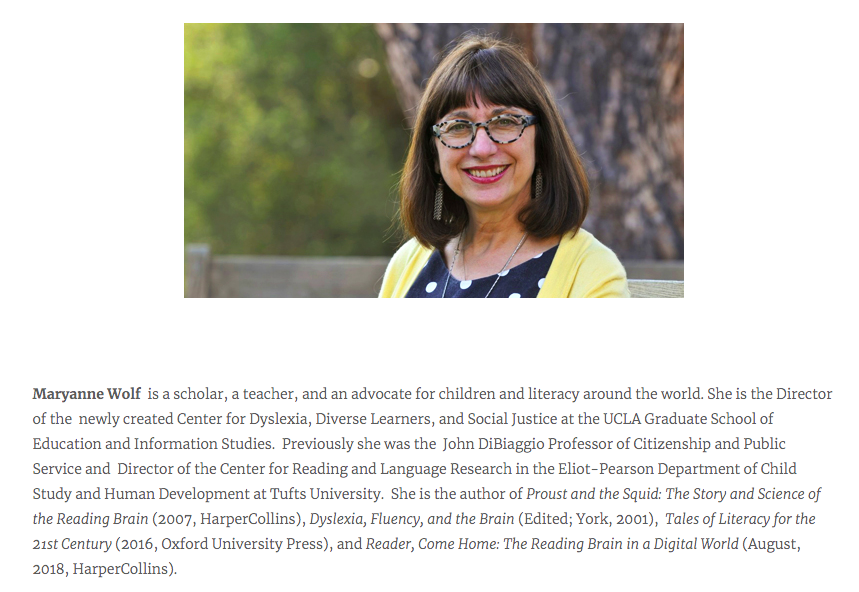 Heartfelt thanks to Dr. Maryanne Wolf for adding her thoughts this piece
More the same than different
Many of us assume that, because each child is a unique human being, every child learns to read in a different way. This widespread misconception causes unnecessary difficulty for teachers and for our students.
Understanding that each reader must master the same set of skills in order to comprehend text opens the door to a host of potential benefits:
Better understanding of how the reading brain works
Rethinking our teacher-training
Determining the cause of reading difficulty
Efficiently delivering effective instruction
Reevaluating our beliefs about student achievement
Teaching every child to read
Words of Wisdom from Dr. Wolf:
"All happy families are alike; each unhappy family is unhappy in its own way."
Tolstoy began Anna Karenina with that famous line.
In our work, each happy reader is happy because they have learned the skills necessary to become a fully comprehending reader.
It may be tempting to assume each unhappy (struggling) reader is different, but each has been impeded by not having mastered some or many of the same basic skills.
Our Training Shapes Our Beliefs
As teachers, we need to understand how skilled readers decode a text and derive meaning from it. But coursework in teacher preparation programs instead prioritizes analyzing case studies, administering surveys of students' interests, and collecting observational data.
We are taught to be attuned to each child individually and to value individualized instruction, but the research supporting our hyper-focus on differentiation is shaky at best. For example, some professional development emphasizes different "learning styles" (for more on this, see Learning Styles Don't Exist) and long-debunked theories about how reading works (for more on this, listen to At a Loss for Words).

We are encouraged to develop our own philosophies of effective reading instruction rather than learning the science behind skilled reading. And because we are trained to value observational data over valid, predictive, reliable assessments, it's difficult to be unbiased as we analyze the efficacy of our instruction.

Contrast our training with that of physicians: They first learn how humans are the same (e.g., basic anatomy), so as to identify well-documented and defined conditions that diverge from this. Only then do they learn how to apply this basic knowledge to the differences that can occur among individual patients.

Comparable training for teachers would include extensive study of the science that explains the teacher-training equivalent of basic anatomy – how all children learn to read.

Teachers Need to Know Every Child Learns to Read the Same Way
Every teacher should have a chance to learn what science has discovered about skilled reading as illustrated, for example, by Seidenberg-McClellan's four-part processing model of how the brain reads.
We deserve to be taught how to use valid and reliable data to diagnose reading difficulties. And before we cultivate our own philosophies of education, we need to understand what scientists already know.

Our Beliefs Shape Our Teaching
Observing our students is a critical skill, but only when our observations are informed by an understanding of how proficient reading actually works. As cognitive scientist Dr. Mark Seidenberg explains:
Most teachers are trained to observe each child's reading behaviors, determine an instructional plan based on those observations, and deliver one-on-one coaching, which we then must monitor to begin the cycle all over again. But observations that are not informed by an understanding of the science of reading cannot guide us to the instruction that most effectively rewires the brain for skilled reading.

Without an understanding of the reading brain, these observations of reading behavior are not a good use of the precious few minutes we have to work with each student
When educators understand how the brain learns to read – that reading requires the repurposing of parts of the brain evolved to perform other cognitive functions – we are compelled to rethink our instruction and our assessments, and to reexamine our previous beliefs about why students struggle.

Our Beliefs Shape Our Expectations
Recently, a brave group of teachers who had shifted to scientifically-aligned reading instruction reflected on their old beliefs.

A kindergarten teacher explained to the group:
"I think teachers like to believe that every child learns to read differently because it explains our lack of success."
The others nodded in agreement.

A second grade teacher added:
"It seems to explain the spread of abilities in our classrooms. Like, 'They all learn to read differently and that's why a third of my students can't read.' It seems to give a reason for why we didn't reach them all."
And another added:
"It justifies the lag. When some kids start to fall behind, we can tell ourselves, 'Some of them are just learning differently. They'll catch up later.'"
The belief that because each of our students is a unique individual, each one follows a unique path in learning to read, is so entrenched in our educational culture that teachers (and even parents) are not adequately alarmed when students leave kindergarten or first grade without basic reading skills.

The hardest part of coming to understand the science of reading is realizing that the learning delays we've come to expect in the primary grades can be an early sign of reading failure.

The best part of learning the science of reading is the discovery that we can raise our expectations for student and school achievement, and, consequently, improve the public perception of teachers.
Every teacher deserves to know the science of reading. And every child deserves a teacher who knows it.